Michael is an accomplished Scottish artist and highly respected tutor with over forty years painting experience.

The challenge is always to capture the very essence of his subject; character in portraits and atmosphere in landscapes.
Biography Summary:
Recommended for art college chose instead a career in the British Army; retiring as an officer in 1989.
Became recognized as an artist and tutor in Aberdeen; eventually establishing a gallery/studio in Aberdeenshire.
For 15 years with his wife Mary, ran courses and hosted painting holidays at home and abroad.
In 2011, moved to Inverboyndie by Banff where Michael continues to paint, accept commissions and provide workshops for art clubs.
Commissions include paintings of military conflicts since WW2 (See Prints) and many official portraits.
Although recommended for Art College, Michael chose adventure and travel in the British Army enabling him to paint and exhibit in many parts of the world. Then, after 27 years' service, he took early retirement as a Major to pursue his calling as an artist.
Settling first in Aberdeen, he sold artwork through galleries and produced several limited edition prints. From 1991 received three prestigious commissions from the Royal Military Police to paint RMP in action during the Gulf War, Falklands War and Troubles in Northern Ireland. He also tutored watercolour painting part-time at the Independent Painters Workshop, Aberdeen for nearly three years.
In 1994, together with his ever-supportive wife Mary, they moved to 'Wood of Shaws', a property beautifully situated beside the River Deveron in Aberdeenshire where, in addition to salmon fishing, a studio/gallery was built.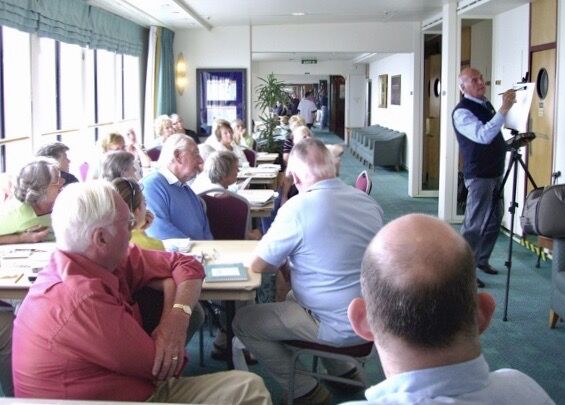 For 15 years, they ran a highly successful business selling paintings, organising courses and hosting residential painting holidays. Michael also took painting parties to Morocco, Tunisia, Crete, Tenerife, France, Tuscany, the Isle of Skye and onboard the 'QE2' (see image left) and 'Queen Victoria.'
Articles by Michael have featured in the 'Leisure Painter' and 'International Pastel Artists' magazines and for five years he demonstrated character portraiture at the annual Art Materials Show, London. Portrait commissions include Field Marshal the Lord Inge, General the Lord Dannatt and football legend….Sir Alex Ferguson. (see image below)
Michael is passionate about his work as an artist and salmon fishing - whilst Mary's ambition on leaving Army life was to breed Jack Russell Terriers. (The Company logo was therefore created by Michael to incorporate their combined interests).
In August 2011 the couple, together with their two faithful companions, moved to their current home overlooking Banff Beach from where ever passionate about his art, Michael continues to paint, accept commissions and demonstrate at Art Clubs.